OUR STORY
Brumit Restaurant Group, founded by Joe Brumit, operates Arby's restaurants across several southern states. Joe started as a franchisee in 1988 with 13 Arby's in Western North Carolina. Since then Joe has brought on two partners, JoAnn Yoder, COO, who has worked with Brumit since 1989 and Greg Catevenis, CFO, since 2008. Together with a very talented team of people, we operate 65 Arby's restaurants across North Carolina, South Carolina, and Tennessee.
Our Strengths
Our strength and greatest asset has always been our people, and our commitment to developing high performing teams. This allows us to continue our expansion efforts across North Carolina, South Carolina, and Tennessee while maintaining superior operations.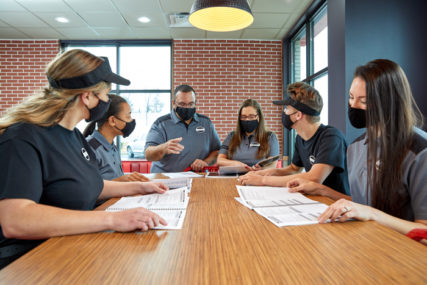 Our Commitment
We are committed to the growth and development of our people and making each community we serve a better place. In our commitment to give back to our communities, BRG partners with and support many organizations including Eblen Charities, United Way, Black Mountain Home, Child Abuse Prevention Services, Special Olympics, Eliada Homes, Habitat for Humanity, AB-Tech, UNCA, Charlotte United Christian Academy, NC Autism Association, and Toys for Tots, just to name a few.